BADLY DRAWN BOY - The Hour of Bewilderbeast (Twisted Nerve, 2000)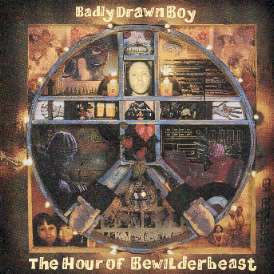 It seems weird when people say about Badly Drawn Boy, "Who are they?" because I have always known that Badly Drawn Boy is the music of one man, Damon Gaugh. So the first questions should really be, "Who is Damon Gaugh?" and "How did you know about this stuff?". Well 'The Hour of Bewilderbeast' is the first album by Badly Drawn Boy however this is by no means the first material he has produced. Damon Gaugh has previously worked with James Lavell (the UNKLE album 'Psyence Fiction' being the first I heard of Badly Drawn Boy on a song called Nursery Rhyme), had a song preformed by Mark E Smith (amongst others who I don't exactly know) and has self produced a series of critically acclaimed EP's recorded from his bedroom. Observation number one must be that for a debut album his musical experience really shows.
With eighteen tracks 'The Hour of Bewilderbeast' may seem a long album but there are certain things that grabs your attention on the first listen, namely the first two tracks. The album opens with "The Shining" starting with a mellow French horn and cello section which echoes throughout the song and like a lot of the album the music is primarily Gough and his acoustic guitar. This first song draws along to it's conclusion pleasantly and then, like album that have been well thought out should do, it breaks from melody to riff. "Everybody Stalking" is the other side to Badly Drawn Boy with a classic electric guitar riff of the fast paced bouncy rock variety. After that the album totters along one way or another. About twenty minutes in you are hit again with the climatic start of "Another Pearl", the first single that preceded the album. After this it's not so dramatic, a few lyrics stick out here and there like "Disillusion" but it's the melodies that are instantly hum-able that really draws you in.
On closer inspection a definite out-door feel crops up time and time again as if Badly Drawn Boy is glad to get out of his bedroom. Song titles run along similar themes like three consecutive tracks; "Fall in a River", "Camping Next to Water" and "Stone on the Water" as if Badly Drawn Boy is trying to take you from place to place but frankly that just annoys me. However, not to draw away from the fact that the latter is a wonderful song and is akin to a lot of the album in the amount of experience, thought and consideration that went into it, now that is what I like.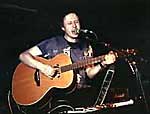 Badly Drawn Boy does, however, try to make the album amusing by including sound clips (splashed on "Fall in a River"), little solos ("Bewilder" and "Bewilderbeast" being the same thing only on organ and with a band respectively) and things like "Body Rap" which I just don't understand because it's a one minute track that isn't making a point, doesn't link any songs and sounds tacky. We are now up to track twelve and there are still amazing songs rolling off this album. "Magic in the Air" is a piano lullaby, "Pissing in the Wind" is another campsite song only far grander and a country feel and on "Epitaph" the birds sing the album out as beautifully as it came in.
The point I'm trying to get across here is that despite the confusing little interludes this is a album of fantastic songs presented perfectly and remember 'The Hour of Bewilderbeast' is Badly Drawn Boy's first album. Basically, I don't know anyone who has heard the album and hasn't really liked it (and I know a lot of cynical people). If you don't know Badly Brawn Boy or Damon Gough now, you will soon.