IRON MAIDEN - Brave New World (EMI, 2000)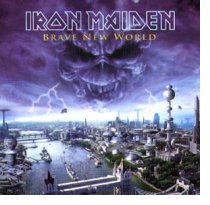 When Bruce Dickinson replaced original 'Maiden vocalist Paul Di'anno in 1982, the band's career skyrocked. After ten further years, Dickinson left the outfit at the height of its success leaving his band-mates to subsequently pick up the pieces with replacement vocalist Blaze Bayley. The reasons for the departure lay with Dickinson's disenchantment with certain members of the band, a promising solo career and a desire to move on to pastures new.
After two rather patchy efforts with Bayley at the mic, bassist and founder member Steve Harris persuaded the disenchanted Dickinson (although he became one of the most popular acts in parts of South America!) to re-enter the fold. Along for the ride was guitarist Adrian Smith, who left in 1989 and had lately corroborated with Dickinson on his solo career.
And so it came to pass that Blaze Bayley buggered off (apparently resigned to his fate) and Iron Maiden recorded their twelfth studio album in twenty years with the dream line up: Dickinson, Harris, drummer Nicko McBrain and three guitarists: Smith, Dave Murray and Janick Gers (Smith's replacement). So what of the results?
Well, to be honest there's not that much new here as the title might suggest. However, there is certainly much to enjoy, and what you have is the classic Maiden style given a well deserved once over. The actual sound of the album is just fab, all credit to producer Kevin Shirley (Aerosmith, Black Crowes) there. And the energy put in to the recording really shows throughout. Do you really need three guitarists? Who cares? It works.
Certainly tracks like 'The Wicker Man' and 'Brave New World' are (although arguably formulaic) perfect single material (the Wicker Man in fact went top 10 in the UK - not bad for an 'old' band!), and evoke memories of 80s classics such as Aces High and Run to the Hills.
The songwriting on the album is of the usual high quality, although some of the later songs are less immediate, notably the closing track 'The Thin Line between Love and Hate' which lacks a real sense of direction. The other tracks grow on you though, and repeated plays reward the listener greatly. I would almost go as far as to say that the album is progressive in style, while still unmistakably metal, although there are a couple of places which resemble the plainchant guitar style of Steve Rothery from Marillion!
Of course where Maiden really excel (and I'm not talking about live performances here - that's another matter entirely!) is in the high speed chorus and overkill power drive finishes, all present and correct on this disc. (Or discs if you're into vinyl - full marks for the beautiful designs on the picture discs). What's perhaps being explored on this album is the different ways of wrapping this sort thing up in different ways, and this is where the 'new' does come in (for instance 'Blood Brothers' contains a section which sounds distinctly Irish!) There are some gorgeous atypical sounds and themes on here, but don't worry, the boys haven't forgotten how they play best!
The fans will obviously lap this up, but if you don't own any Maiden albums you could do far worse than start right here. All that remains is to hope the line up lasts, because the follow up could be even better than this. Very promising indeed.