Aural Pleasure - Radio Head - **Kid A**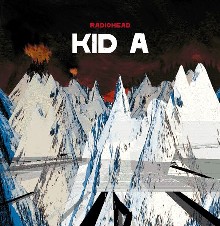 We can all breath a sigh of relief, the world isn't going to end. Civilization is no longer about to crumble from the pressure of corporation and capitalism. Mechanisation and murderous transportation isn't going to take us over. The laws to lead fitter, happier and more productive lives are no longer set. Well, maybe they are but at least Radiohead have stopped singing about it! Life may now look a bit brighter, unless of course, you are Thom Yorke.
Thom Yorke, the singer and main songwriter of Radiohead is now moaning about the fame. Someone with all that money and you'd think they would be happy and more productive but after the huge success of OK Computer Thom Yorke wanted to disappear completely and never be found. The expectation was enormous, for two years after OK Computer Radiohead produced no new material, the band fell apart and Thom Yorke had to start again. He rebuilt Radiohead with the same people, who all wanted to make different albums but if anything were to be done it would done be Thom's way. From recording sessions in four different studios across the UK and Europe, Kid A was born. Around thirty songs were recorded and ten songs were curiously selected for Kid A, an album that would be done differently. No singles are to be released, radio stations are told they can play any track they like, no promos or advertising only 10-40 second 'blips' of animation by the artists who worked on the album sleeve.
As for the album itself it is very good but not exceptional. There are good tunes, Everything In Its Right Place and How To Disappear Completely, describing best Thom's mental situation after OK Computer, are the closest it gets to the old formula. Motion Picture Soundtrack is a beautiful song but having heard it played better live kind of spoils it and the same can be said for The National Anthem and Optimistic when they are played in a more raw form (see internet sites for MP3's). Guitars are use in abundance on half the tracks like the rhythm of In Limbo that collapses around you. Parts of Kid A seem a little messy and far too sporadic like the title track, the emphasis being on doing something that they haven't done before sounds chaotic and directionless. Radiohead felt that they can't just do acoustic guitar tracks like those on The Bends, a sound that has been destroyed by the likes of Travis, instead a song like Mourning Bell is organ driven and only a slight hint of guitars. Streamlining out guitars and adding voice manipulation, recorded loops and broken beats make songs that are distinctively Radiohead seem strange and it takes some getting used to though the album isn't as electronic as we are led to believe. The packaging is very Radiohead, having to rip open part of the box to get at some of it is something I learnt from OK Computer.
It is true that Kid A lacks some of the really catchy tunes which they have written recently and regularly play live (again see internet esp. Knives Out, Egyptian Song and Lift) which presumably will appear on the next record that the band are rushing to put out by February next year. This might be a move back to a more commercial type of album. Another Kid A track worth mentioning is Idioteque, despite it's Aphex Twin label (I had actually written it off long before hearing it) it is probably the best made songs on the album. This is a worthwhile album and I will enjoy it and unfortunately the trendy students will buy this. It's not quite the high standard of The Bends or OK Computer, we'll just have to wait until February for that and poor Thom Yorke is still going to be famous whether he likes it or not.